Skip to Content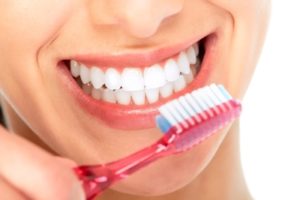 A dentist who practices family dental care in St. Charles and Glen Ellyn always stresses the importance of patients of all ages taking care of their gums. Gum disease is a serious concern in dental care. Without treatment by a dentist, gum disease can lead to pain, redness, and even tooth loss. Fortunately, you can prevent these symptoms. Read on to learn how visiting your dentist, practicing good oral hygiene, and avoiding bad habits can keep your gums healthy.
Practice Good Hygiene
Good oral hygiene is essential to taking care of your gums. Dentists recommend that children and adults brush teeth with fluoride toothpaste and soft-bristled brush twice per day, or after each meal. Brushing teeth helps remove food debris trapped between the teeth and gums, preventing plaque formation. When plaque forms, the gums can become infected and diseased. Family dental care also involves flossing each night before bed to remove plaque and tartar that your toothbrush can't reach.
Visit Your Dentist
To keep your gums healthy and happy, it is important to visit a dentist twice per year for professional teeth cleaning. Your dentist's high-tech toothbrushes and tools provide deep cleaning for your teeth and gums. Additionally, only dentists are trained to administer comprehensive gum exams. This in-depth analysis of your teeth, gums, bite, and bone structure is an essential tool in dental care. Gum exams allow your dentist to track and detect any symptoms of gum disease before it develops into a more serious oral health condition. Dental care in the early stages of gum disease is also generally pain-free and non-invasive.
Avoid Bad Habits
Certain bad habits are linked to gum disease, and quitting unhealthy practices can significantly reduce your risk. Dentists warn that smoking is the leading preventable cause of gum disease. Tobacco use lowers the body's ability to fight infections, and smokers are more likely to have periodontal disease—and to have more severe symptoms. Additionally, it is important to manage other illnesses, including heart disease and diabetes, to reduce your risk for developing gum disease and prevent symptoms from worsening.