Skip to Content
What Is Baby Bottle Tooth Decay?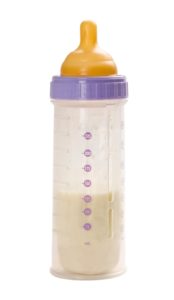 As your baby continues to grow, you'll start to notice new developments all the time! Your baby's dental changes will be some of the most noticeable as well as some of the most important to take care of for good health. Your pediatric dentist in Glen Ellyn may have already warned you about the dangers of baby bottle tooth decay. By learning about this condition and how it starts, you can help your baby maintain the best oral health possible.
Baby bottle tooth decay refers to tooth decay that happens as a result of too much exposure to sugary liquids typically served in a bottle. When your baby's teeth are exposed to sugary drinks like fruit juice or even breast milk through a bottle, they are exposed to bacteria that can lead to tooth decay. This is why your dentist will tell you to avoid putting your baby to bed with a bottle or using a bottle in place of a pacifier. You can also ask your dentist how to provide good dental care for your baby's teeth when they start to show.