Skip to Content
What You Should Know about Oral Cancer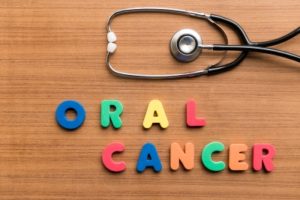 Oral cancer affects thousands of Americans each year and can be deadly. Fortunately, visiting a dentist serving Glen Ellyn for regular checkups can minimize your risk of suffering from this serious health condition. When you visit your family dentist for teeth cleaning, he or she will check for signs of oral cancer. Early detection is the best way to beat this disease. Keep reading to learn more about oral cancer symptoms, screening procedures, and risk factors.
Serious Symptoms
Oral cancer symptoms can include a sore or irritation that won't go away. Your dentist may advise you to watch for red or white patches or a flat white bump anywhere on the tongue or in the mouth's soft tissue. Pain or tenderness in the mouth or lips and difficulty chewing, swallowing, or speaking is also common. Additionally, a family dentist may notice that your teeth fit together differently when you close your mouth. This is a common complication of oral cancer.
Simple Screening
Early detection by a dentist can provide the best prognosis for oral cancer. When you schedule your teeth cleaning, make sure that your dentist also provides an oral cancer screening. Your dentist should examine your tongue and the inside of your mouth. He or she should also examine your neck and head and discuss any changes in your oral health with you.
Risk Factors
To minimize the risk of developing oral cancer, to begin with, dentists advise patients to be aware of their risk factors and to keep them apprised of any health issues. For example, smokers and excessive alcohol drinkers over age 50 are at the highest risk for developing oral cancer. In non-smoking adults, HPV-positive individuals are the next largest risk group for oral cancer. HPV-related cancers usually develop in the throat at the base of the tongue or on the tonsils, making them difficult to detect without help from a dentist.