Skip to Content
Glen Ellyn Cosmetic Dentistry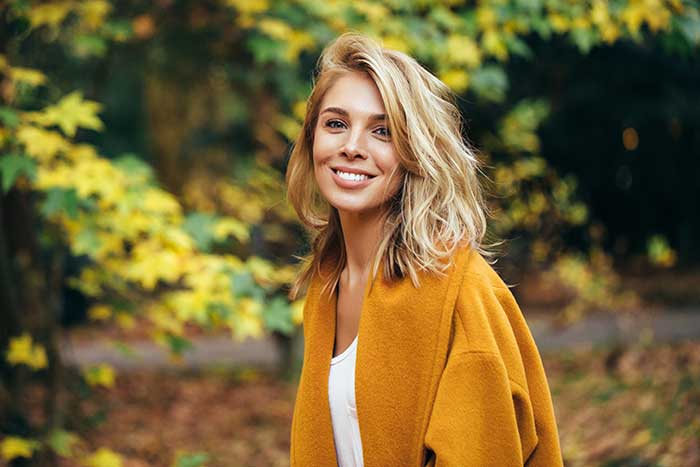 High-Tech Smile Makeovers
Cosmetic dentistry is our specialty at Family Dental Care and we have equipped our office with the latest in technology to provide all of the high-tech cosmetic dentistry procedures available today, in a comfortable, friendly environment.
Our Doctors have been a pioneer at the forefront of cosmetic dentistry since 1980 and have treated thousands of cases using cosmetic procedures. We use the newest technology to design a custom smile for your mouth.
Cosmetic Dentistry
The look of your smile plays an important part in the overall appearance of your face. A healthy, full smile will keep you looking younger and encourage you to speak, smile, and laugh with greater confidence. Cosmetic dentistry focuses on helping you achieve the bright, beautiful smile you want—your dentist serving Glen Ellyn at Family Dental Care offers a variety of cosmetic treatments, including veneers, teeth whitening, and dental implants.
Your Options for a Brighter Smile
Stains on the teeth are a common cosmetic concern. If you want a brighter, whiter smile, our dentists can offer several treatments to improve the color of your teeth. The best solution for you will depend on several factors; your dentist can help you choose the option that is right for your short- and long-term needs.
Teeth Whitening is one of the most popular and economical ways to brighten a smile affected by most types of stains. Family Dental Care offers the Zoom! 2 Professional Teeth Whitening system, allowing our patients to achieve a whiter smile in a single dental visit.
Dental Veneers are thin, tooth-shaped covers that fit over the front of your teeth. Because porcelain veneers can be tailored in terms of color as well as shape and size, they can be used to brighten a smile affected by stains that may not be correctable via chemical teeth whitening solutions.
Reasons to Choose Dental Implants
One or more missing teeth can affect the overall look of your smile. Tooth replacement not only improves your ability to speak clearly and enjoy the foods you love but creates a natural and complete smile for improved self-confidence as well. Dental implants have quickly become the gold standard in tooth replacement technology.
Dental implants are the closest replacement option to your natural teeth. Because they look and behave just like a real tooth, your dental implants offer superior aesthetics and stability.
Unlike dentures and bridges, dental implants are a permanent tooth replacement option. Over time, dentures and bridges will need a replacement; with proper care, your dental implants can last a lifetime.
Dental implants are the only tooth replacement option that also prevents bone loss from the jaw. If you need to replace several or all of your teeth, this is a significant benefit over dentures and bridges, which do not halt the bone loss that affects your appearance and oral health.
New Patient Cosmetic Consultation
The first step in any cosmetic procedure is to do a full examination of your teeth and mouth and then review with you the different options to give you a beautiful smile. Ask us about dental lumineers as an option, because many cosmetic procedures can be done without cutting or with minimal preparation — and affordably, and yet make a tremendous difference to your smile.
To make an appointment, please call our dental office today at 630-858-0216, or request an appointment online.