Skip to Content
General Dental Care in Glen Ellyn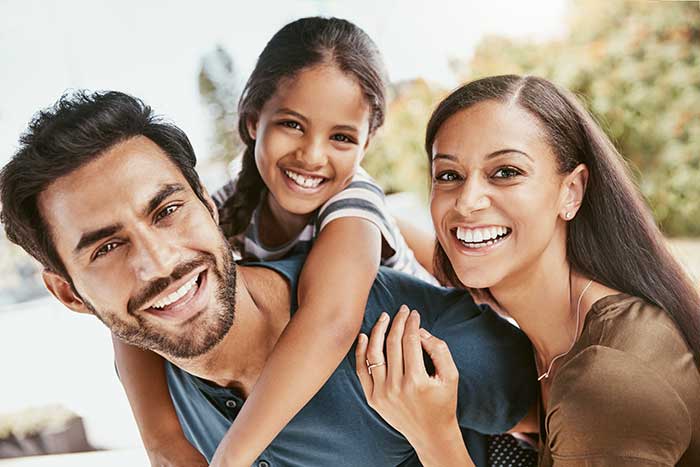 Checkups & Maintenance by Dentists in Glen Ellyn, Campton Hills & Bloomingdale
Keeping your teeth healthy, and restoring dental health is important for keeping your natural teeth as long as possible. No matter what condition your teeth are in right now is the best time to begin taking care of them. We can help, and it's easier than you think. We're the best dentists in Glen Ellyn, Campton Hills, and Bloomingdale, and you no longer need to be afraid of your dental check-ups! Our gentle and understanding staff will give you a very careful evaluation and help you to take care of and preserve your teeth, every step of the way.
We Are Here for You
At Family Dental Care, we are committed to bringing you and your teeth unparalleled shine and health. Like all reputable dental professionals, we recommend scheduling regular check-ups to ensure your teeth and mouth remain in great shape year-round. Staying regular with your dentist also helps prevent cavities, tooth loss, and severe pain. If you are looking for a dental office to meet your needs, Family Dental Care is an excellent choice. Gentle and understanding, will give you a very careful evaluation and work with you to preserve your teeth for life. After a visit to one of our three locations — you can find us in Glen Ellyn, Bloomingdale, and Campton Hills, IL — you'll no longer need to be afraid of your dental check-ups. We love new patients and offer many first-timer deals that work well with your wallet. If you're in need of truly outstanding dentistry near you, please give us a call today at 630-858-0216.
A Dedicated Dentistry Team You Can Trust
With decades of experience and the latest technology in the industry, our practice here at Family Dental Care is an excellent choice for elite dentistry in Chicago's Western suburbs. Our knowledgeable team of professionals is prepared to handle any dental issues you may have. We strive to help you understand the condition of your teeth and create an environment that is both comfortable and friendly. Our dentistry center is family-oriented, providing many great treatments for kids. We have a deep passion for dental health and love helping our neighbors. If you're searching for an elite dentistry team that is trusted and professional, Family Dental Care is the place for you. Read on to learn more about our services, and please free to reach out to our team today!
Dental Services
Here at Family Dental Care, we offer a wide array of services to get your teeth shining and healthy. As we are DuPage County's one-stop dentistry, you can be sure your dental needs will be taken care of. With great amounts of experience and state-of-the-art technology, we provide a nearly limitless array of services.
Fillings (white color)
Fillings are a fast and comfortable procedure with us. Our dentists at Family Dental Care always use high-quality composite (white) fillings, and we provide a local anesthetic, which is administered quickly and competently.
Discolored teeth don't have to bring you down. At our offices, we provide fast and effective teeth whitening solutions to bring your smile that pearly shine.
Damaged and cracked teeth are common for adults. We provide long-lasting solutions such as dental crowns to bring the structure back to your teeth.
Dental Check-ups
At our dental practice, we administer a comprehensive dental exam when you schedule your first check-up. This includes an in-depth oral exam, digital X-rays, a complete periodontal exam, and cancer screening.
Extractions And Root Canals
Most dental extractions, including some routine removal of wisdom teeth, can be done right in our office, whether you are visiting our Glen Ellyn, Campton Hills, or Bloomingdale office. Root canals have the worst reputation when it comes to dental procedures, but our dental staff in Illinois will make this treatment a breeze. We pride ourselves on being quick and efficient; therefore, most procedures can be completed in one visit.
New Patient Special Evaluations
Along with the comprehensive exam after your first appointment, we will create a customized treatment plan personalized to your needs. We offer Services for the whole family, and we would love to be your exclusive family dental caregivers. We also offer great deals for first-timers and children. If you're looking for a new dentist team that is family-friendly and professional, your search is over. We'd love to meet you and discuss what we can do for you. Please give us a call today at 630-858-0216 to schedule an appointment at one of our three area offices.
Why Choose Us
The oral healthcare professionals here at Family Dental Care are friendly, experienced, and professional. Winning multiple awards for our work, we have become the top choice in Illinois. We offer three DuPage County locations in Glen Ellyn, Campton Hills, and Bloomingdale to provide convenience to you. We also accept most major insurance companies, making trips with us painless on the wallet, as well. Family Dental Care is equipped with the greatest technology in the industry, meaning all your dental needs can be taken care of in one visit.
For general dentistry services for the whole family, call 630-858-0216 today!