Skip to Content
A Look at the Dental Implant Procedure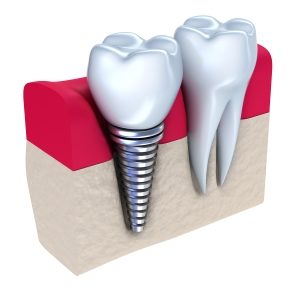 A dental implant is a prosthetic tooth that is permanently implanted in your mouth by a cosmetic dentist or emergency dentist. Your dentist may recommend a dental implant if you have lost a tooth due to aging, an injury, or tooth decay. If you're in need of a dental implant in Glen Ellyn, keep reading to learn more about what to expect from the dental implant procedure.
Before the Procedure
Before you receive a dental implant, you will have to visit a dentist for an examination. During this examination, your cosmetic dentist will determine if you're a good candidate for teeth implants. He will evaluate your overall health, and check your mouth for signs of gum disease and bone loss. You must have healthy gums, and sufficient bone to support the dental implant, in order to undergo the procedure. If you are a heavy smoker or suffer from a chronic condition such as heart disease or diabetes, you may not be able to receive a dental implant.
How the Dental Implant Procedure Works
Your cosmetic dentist or emergency dentist will place a titanium post in your jawbone. This post will function as the root of your dental implant and will anchor it permanently in place. It can take three to six months for your jawbone to heal around the post. Some dentists wait until the jaw has healed before attaching the prosthetic tooth. Your prosthetic tooth will be created in a dental lab and will match the color and shape of your natural teeth. It is affixed to the post using dental cement.
After the Procedure
You may have mild pain or swelling after the dental implant procedure. Your dentist will prescribe you pain medication and may recommend that you only eat soft foods until you heal. Dental implants require the same dental care as natural teeth. You will need to brush and floss regularly and visit your dentist often for checkups. Dental implants have a success rate of up to 98%, and with the right care, your implant can last a lifetime.