Skip to Content
Tips for Reducing Dental Anxiety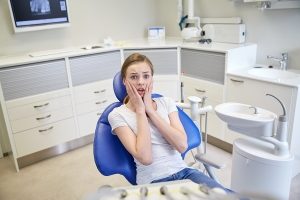 Does the idea of undergoing dental care trigger feelings of anxiety in you? You're not alone. Many people of all ages admit that they actually avoid going to the dentist because of anxiety. The problem is that neglecting your oral health care can lead to major problems. Failing to address a small dental care issue in its early stages can lead to the need for lengthier, more extensive procedures in the future; in addition, oral health problems can lead to systemic health issues. Rather than avoiding family dental care in St. Charles, talk to your dentist about your options. There are ways to reduce your anxiety about going to the dentist so you get the care you need comfortably. These tips may help.
Speak Up
Going to the dentist and trying to hide your anxiety will only exacerbate it. Instead, tell your dentist how you are feeling, and in particular, which parts of the appointment cause the most anxiety for you. Your dentist can tailor your family dental care to accommodate your concerns so you feel more relaxed about your treatment.
Be an Active Participant
When you sit in the dental chair, you are part of the care team. Take an active role in decisions about your dental treatments. Ask your dentist questions and talk through your treatment options. When you make decisions about your care and feel engaged in the process, you will lose that feeling of powerlessness many anxious dental patients feel.
Consider Sedation
Sedation dentistry allows you to get important dental care without the accompanying anxiety. Using nitrous oxide or oral medications provided by your dentist, you can control your anxiety while under treatment. Sedation also allows you to combine more treatments into a single visit to cut down on the number of appointments you need. Talk to your dentist about your sedation options and what to expect. Be sure to plan for someone to drive you home from your appointment, if necessary.